Imagine a city without motorcycles, cars, buses, trucks, or any other type of motorized vehicle circulating on the streets, think of a place where all people move from one corner to another using only the bicycle as a means of transport, very well , Huh? Well, this city exists, it is Afuá, located on Ilha do Marajó, in the state of Pará.
Afuá is located in a swampy region, it is a riverside municipality. Most of the streets and houses in the city are suspended on stilts, many of them made of wood. And it is through these streets that around 40,000 residents of the city cycle.
Public official Yasmyn Pantoja moved to Afuá 20 years ago. She reports that she was shocked when she saw Bicycle City for the first time. The flow is intense at certain times, and even without signs that organize the circulation of bicycles, the traffic flows positively. According to Yasmyn, in the streets of Afuá the law of respect and courtesy is founded.
"I usually say that the traffic in Afuá is more or less like the traffic in India, you know? A mess, but we understand each other. Nobody bothers anyone, hardly anyone falls to the ground. So, despite the heavy traffic, the fact that there is no real signage, I think our culture is so massive and branched, among the Afuáenses who live here, that we can understand each other in this traffic. Say it, Yasmyn.
Afuá Pará and its exotic surroundings
The city has a unique architecture, with wooden houses, typical of the island of Marajó. Afuá is also called Venice Marajoara. Andra Ataíde, a touristologist for the Riverside City Tourism Secretariat, reported that many viewers are attracted by the culture outside and by the richness of the region's landscape.
"Many cyclists, groups of cyclists ride, sometimes they come here just to pedal. Because they don't have to worry about car accidents and other details. Students of architecture, engineering, photographers … they have a great passion for this city because of its differential, right? That's it, Andra.
Afuá brings out the concept of inclusive urban mobility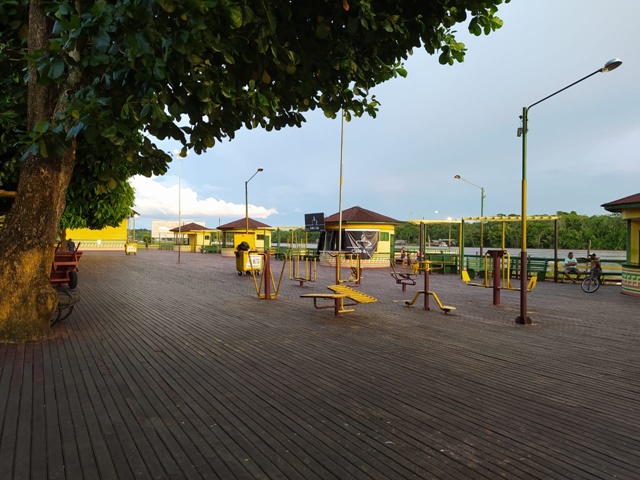 Renata Falzone, journalist and activist of the cycle, says that she was delighted with the city of Afuá when she visited the place. He also reports that he took several photographs and traveled extensively in the region by bicycle. According to Renata, Afuá is an example of how it is possible to have a more democratic and inclusive urban mobility.
"Riding in Afuá is interesting. Because you see that the bicycle really gives the same wings to everyone in the urban center. So, it is a city that the urban environment promotes eye to eye, respect, sharing, few rules and a lot of harmony. It's amazing, wonderful, "adds Renata.
Afuá Pará invests in infrastructure to make bicycles the main means of transport
To get to Afuá it is necessary to take a boat from the river transport in Macapá, capital of Amapá.
In Brazil there is only one Afuá, but several Brazilian municipalities are also investing in public policies and infrastructure so that bicycles become a viable urban means of transport for the population.